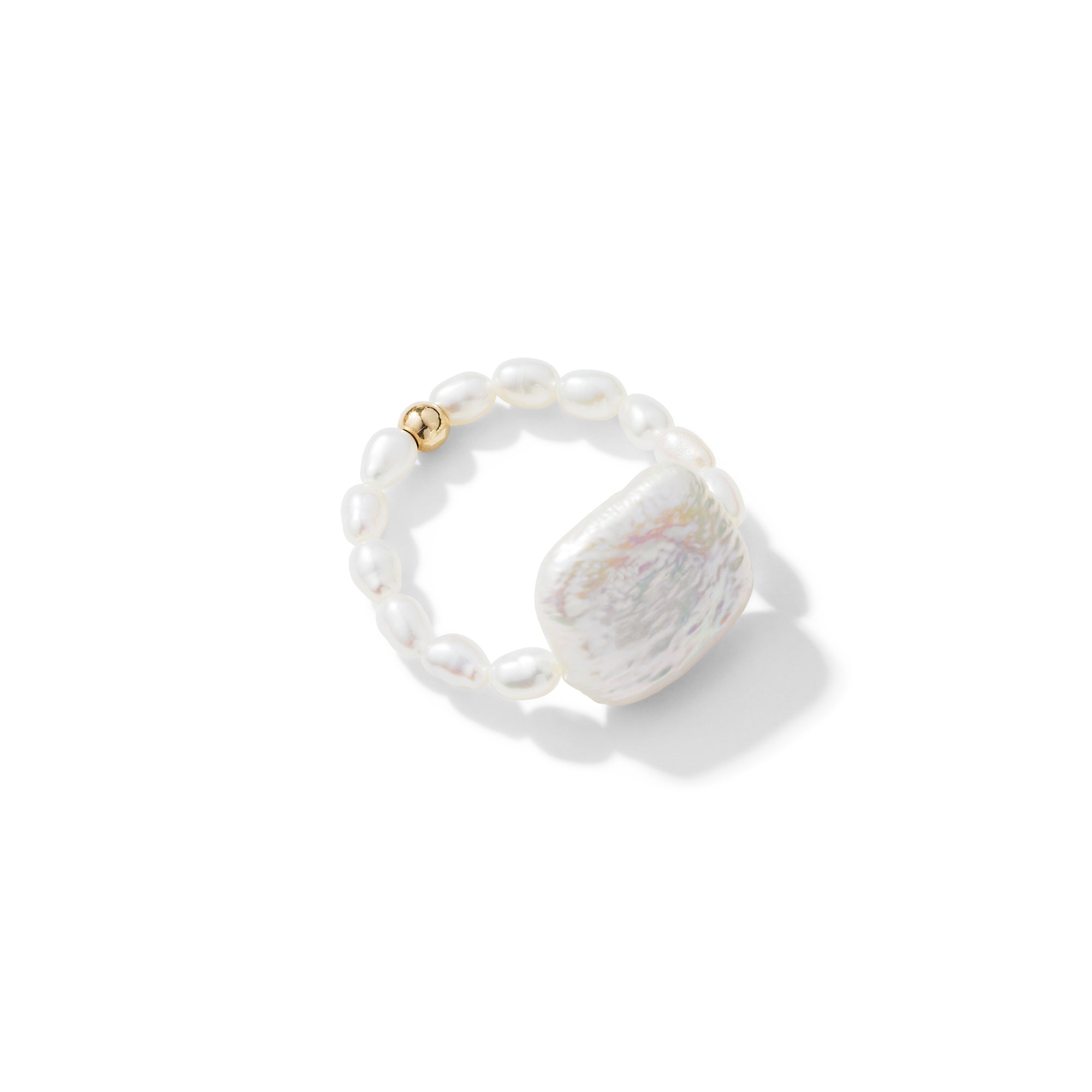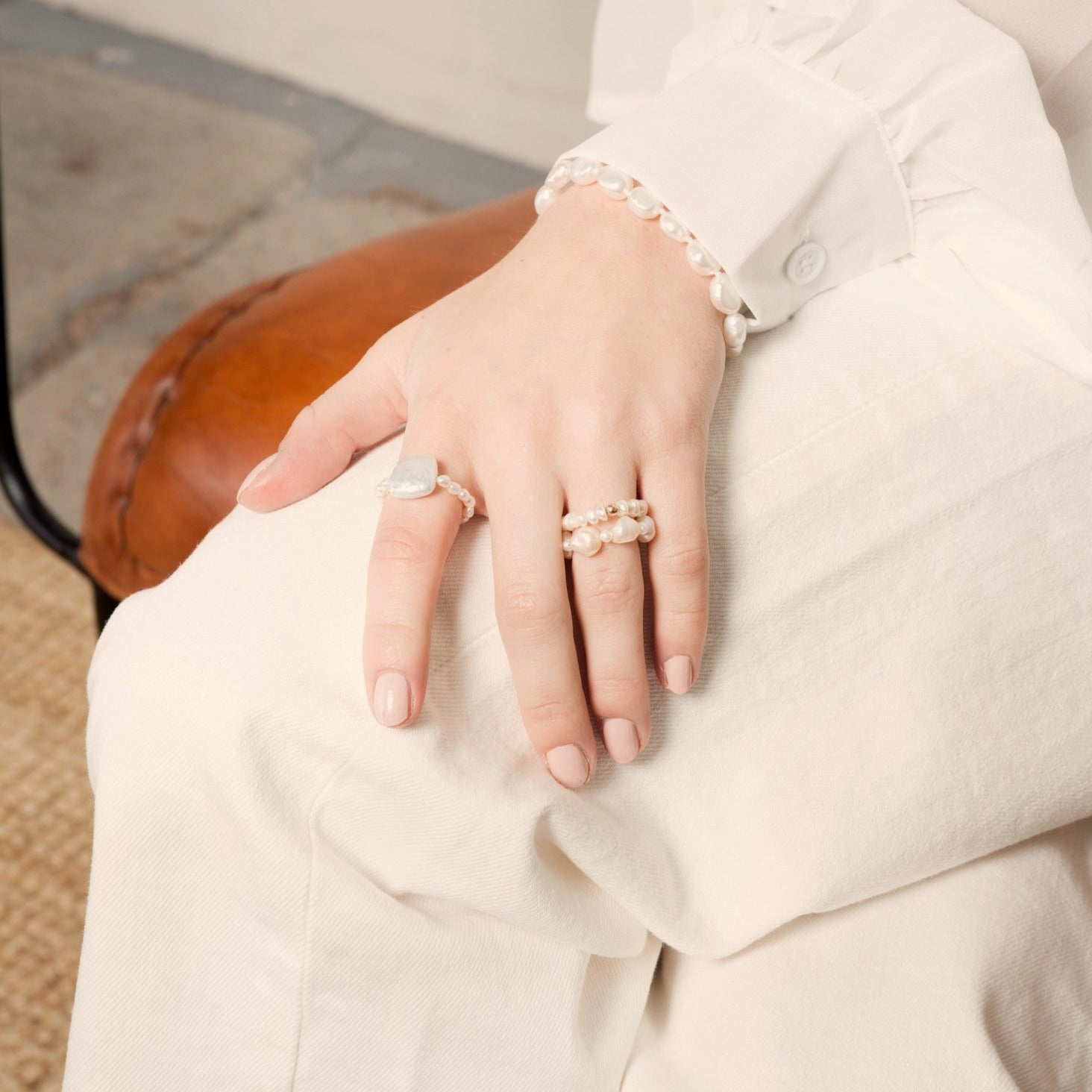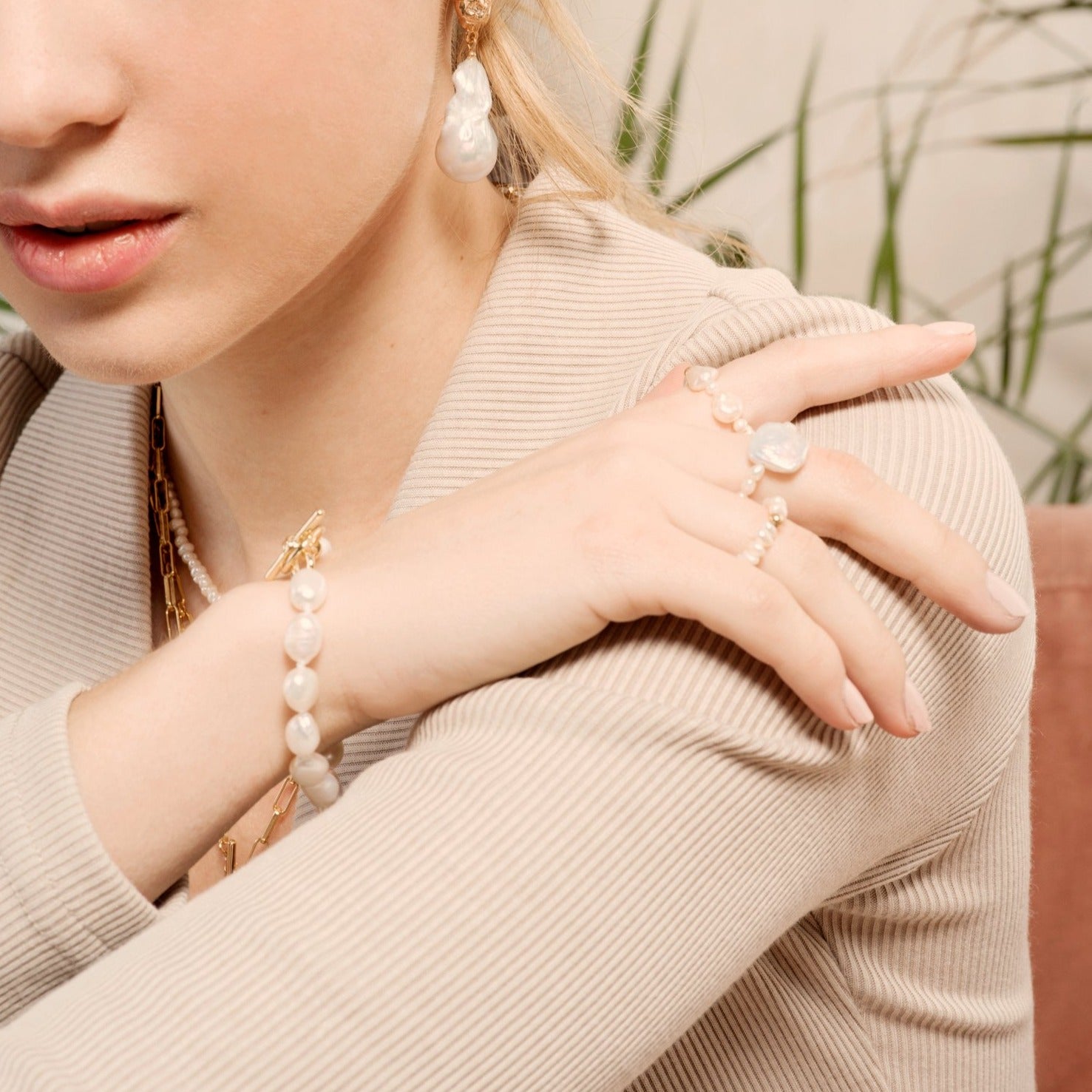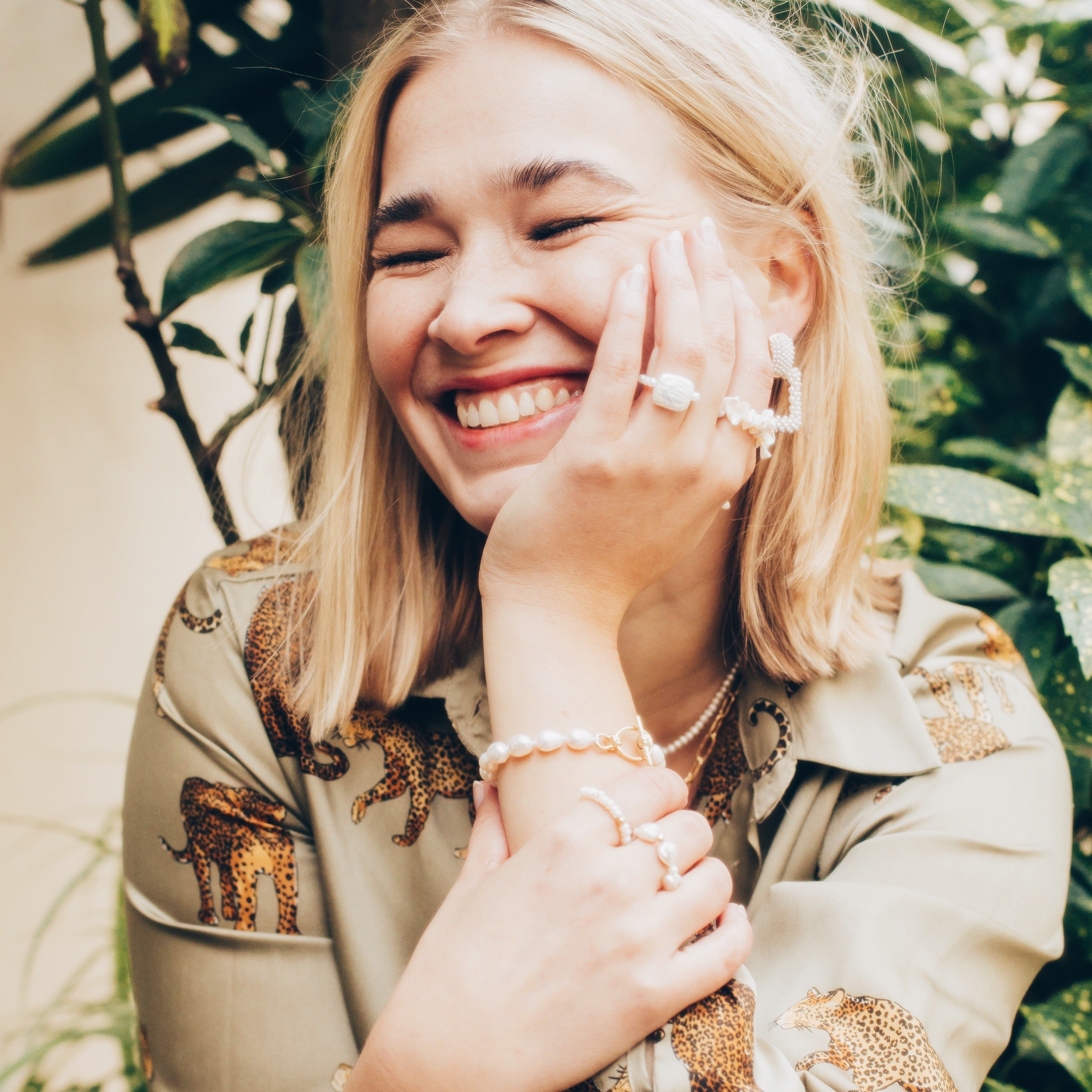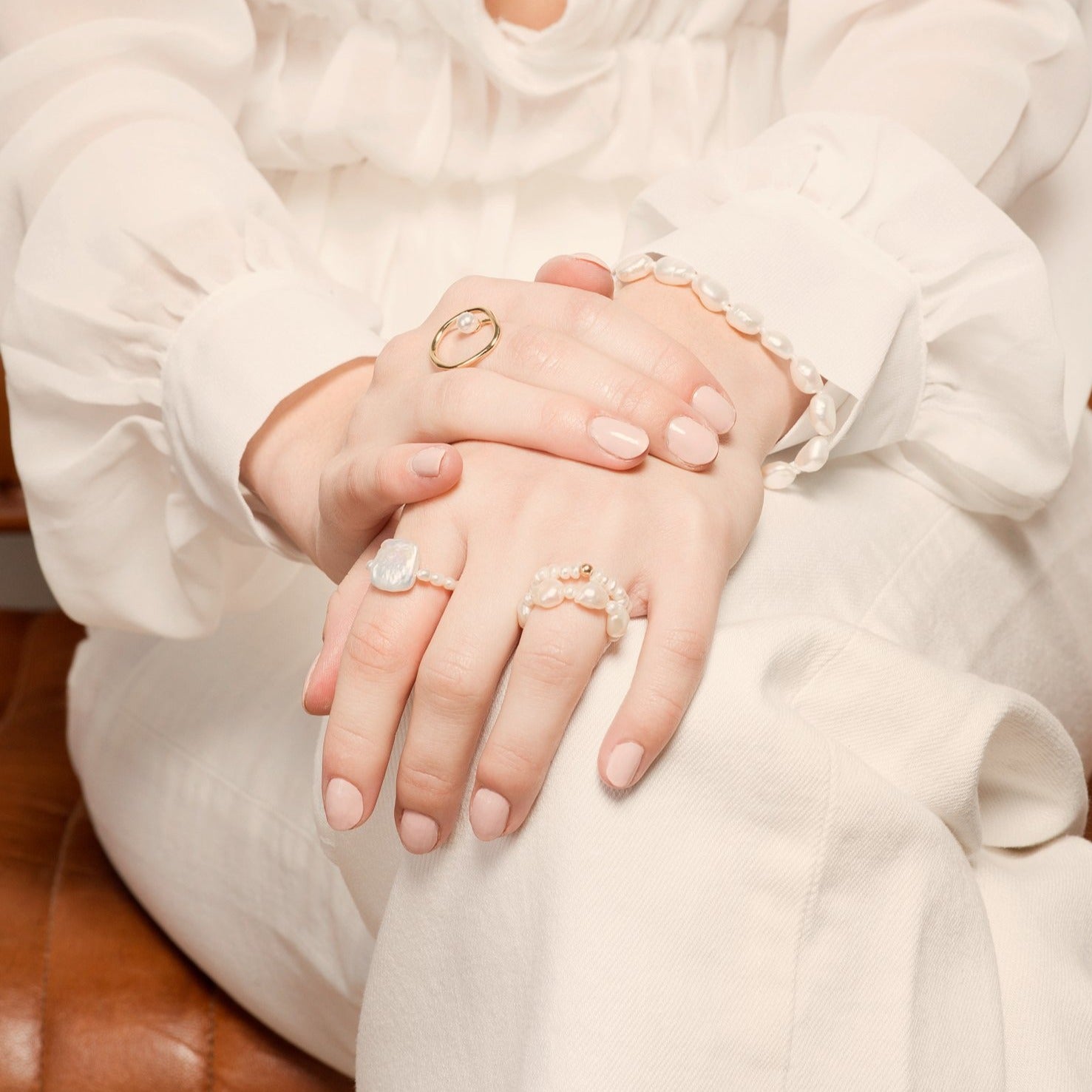 Emma Carre Bean 14K Baroque Pearl Ring
The Emma Carre Bean 14k Baroque Pearl Ring has been designed to stack with our other pearly delights. It is handcrafted with genuine freshwater pearls and delicately strung on an elasticated strand. Each pearl is carefully chosen for its stunning luminosity, with a rounded-square pearl acting as a central gem. A petite 14k gold plated sphere spacer completes this stretch ring, which is perfect for all sizes.
We created a five-piece, pearl ring collection, designed with stacking in mind. This beautiful accessory matches particularly well with the elegant Émilie Classic Bean 14k Baroque Pearl Ring, a sweet ring of freshwater pearls. Complete the look with a French manicure and an in vogue, leather handbag.
Note: The Emma Pearl Ring is handcrafted with freshwater pearls, and inevitably will have variations in size, shape and color due to their natural nature, which truly reflects the uniqueness of each piece. 
- Genuine Baroque freshwater pearls
- 14k gold plated
- Ideal for fingers with 15mm diameter max. (elasticated)
- Designed to mix and match
Emma Carre Bean 14K Baroque Pearl Ring
FAQ
Are the pieces made of solid gold?
No. All our jewelleries are quality gold-plated using 14ct or 18ct gold.
Do you ship worldwide?
At the moment we ship only within the U.K.
How'll you pack my jewellery?
Each jewellery will be wrapped by premium microsuede pouch which is great for protection and storage and all jewelleries will then be packed in one large gift box, instead of individually boxed to protect our rainforests. Add extra gift box if you require your jewellery to be individually wrapped.
Do you do gift wrapping?
Yes. Add extra Gift Box (£2.9) before checkout and we'll pack each pair of your jewellery individually in our gift box.
Can I have special request on pearls and gemstones?
Yes. Please write us at order@pijouletta.com with your order number and we'll do our best to accomodate.
Are your jewelleries nickel-free?
Yes. We all have sensitive ears. All our jewelleries are tested and are nickel-free.
Shipping
Shipping
Standard delivery takes 3-5 working days [£4.95]. Express delivery available which takes 2-3 working days [£10].
Processing time
Leave us 24-48 hours to process your order and receive a tracking. Orders placed on Friday after 12:00 noon will be processed in the next working day.
Get in touch
Write us at hello@pijouletta.com for any questions you may have! We're here to help :)