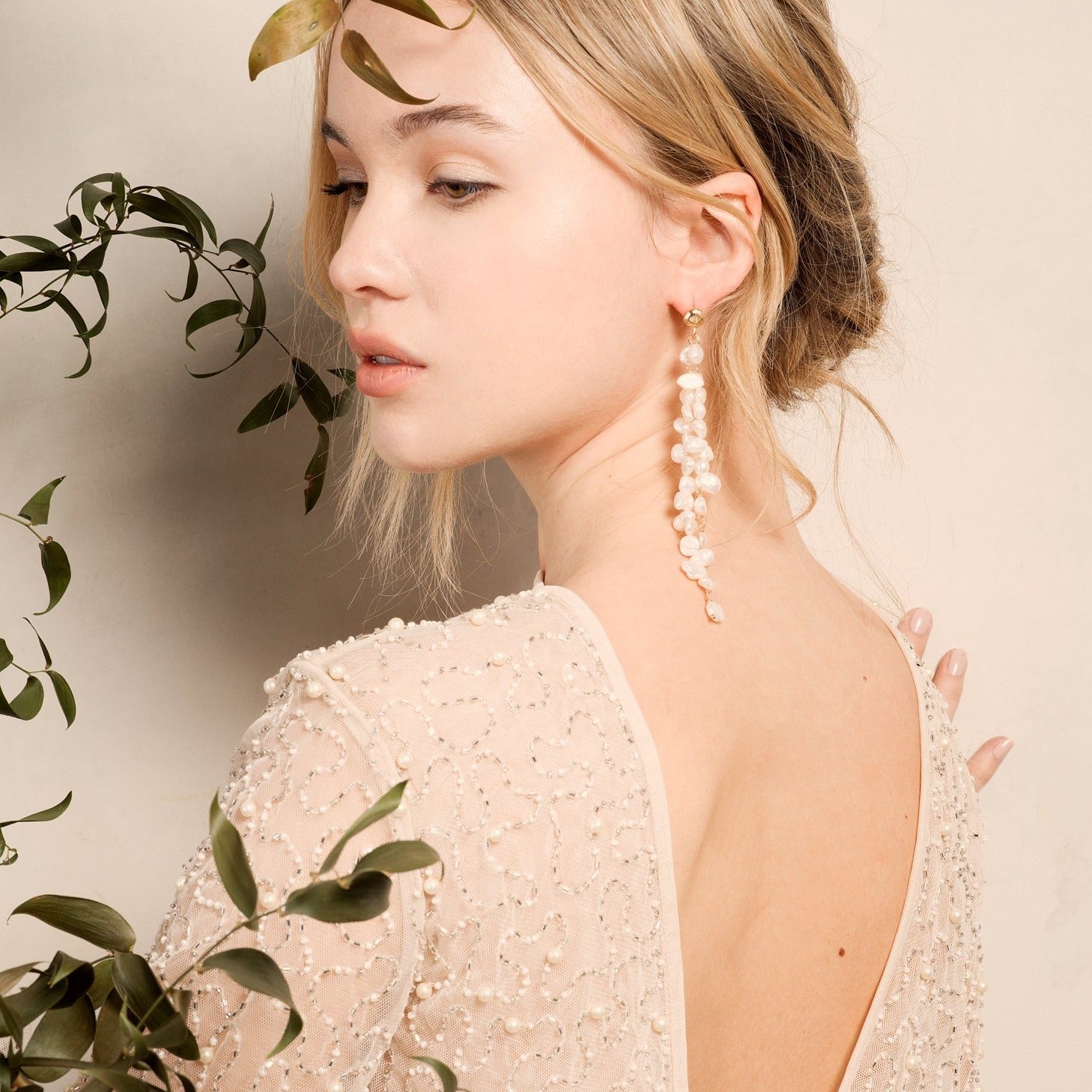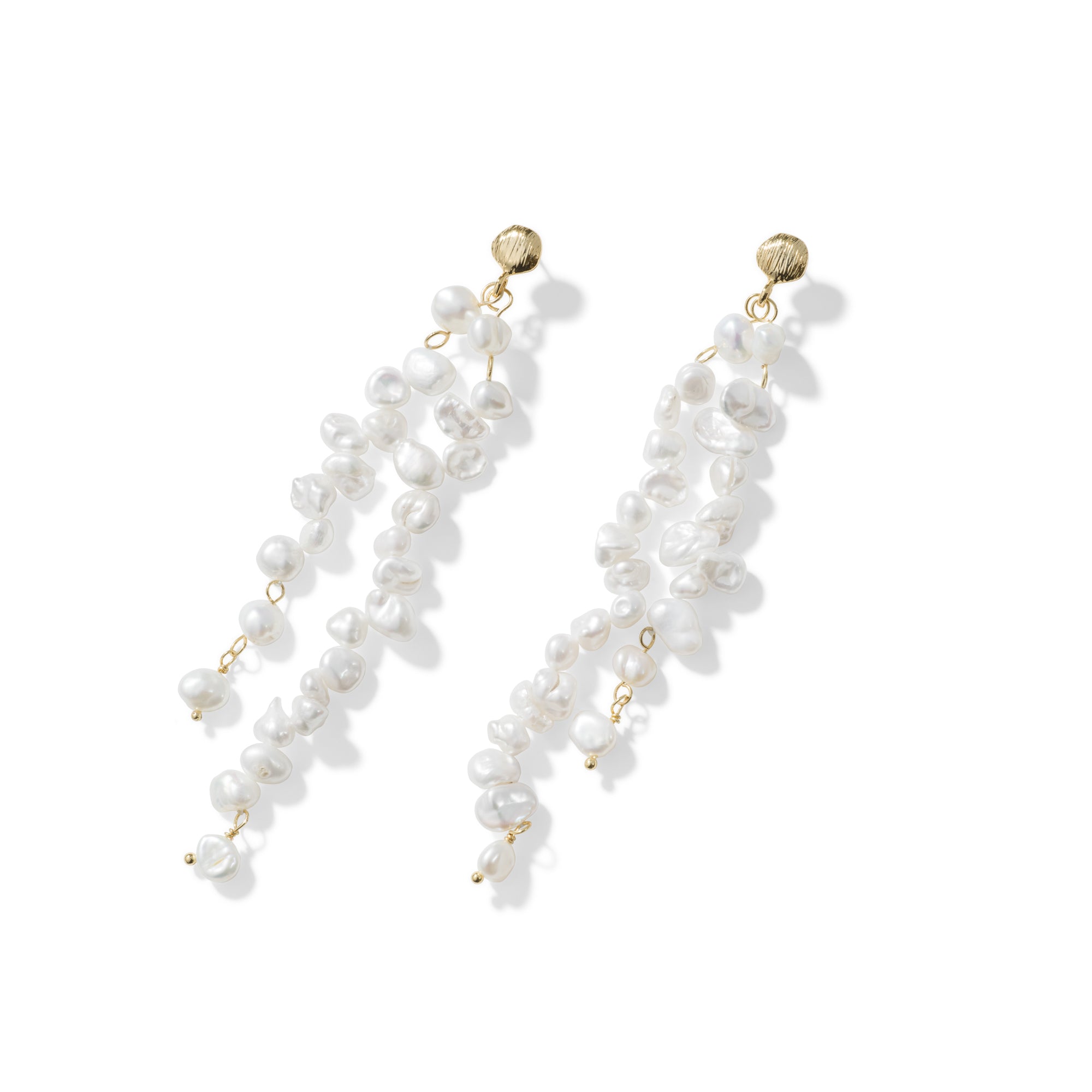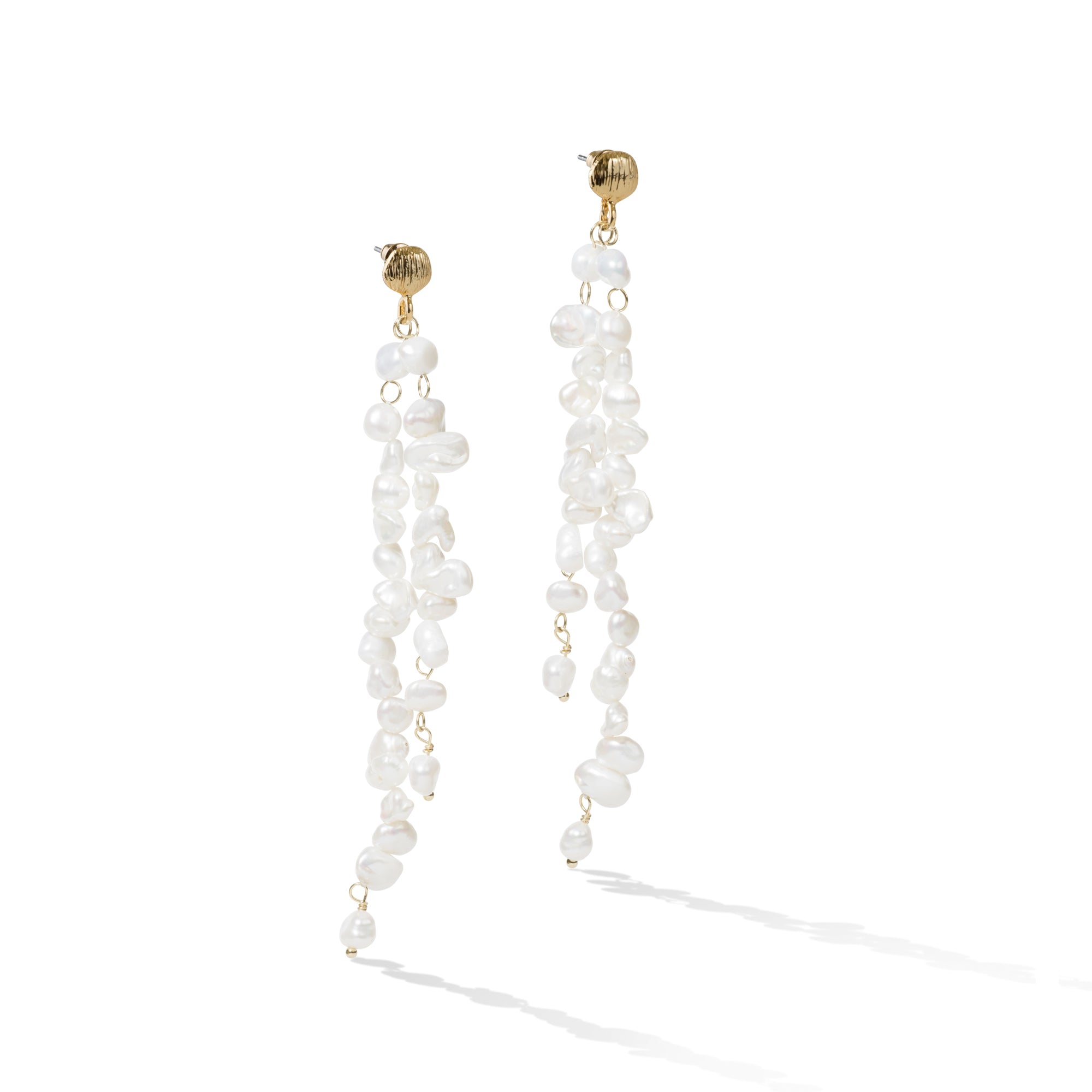 Clemence Falls 18k Gold Baroque Pearl Drop Earrings
These pretty pearl earrings resemble delicate raindrops, suspended from a 18K gold plated button. The freshwater pearl drops hang from a golden button and cascade onto the shoulders. Each Baroque pearl is uniquely positioned to emit a naturally luminous glow. A subtlety unique accessory, the Clemence Falls pearl and gold drop earrings are the perfect blend of timeless elegance and contemporary style.
A pretty piece in any jewellery collection, they look stunning alone or paired with a dainty pearly necklace, such as supremely elegant Lieselotte Luxe with large pearl pendant and front T-bar fastening. Worn for special occasions, they look beautiful with a smartly tailored cocktail dress. They also make great bridesmaid gifts and add a little luxury to any wedding event.
Note: The Clemence Pearl earrings are handcrafted with freshwater pearls, and inevitably will have variations in size, shape and color due to their natural nature, which truly reflects the uniqueness of each piece.
- Baroque freshwater pearls
- 18K Gold Plated
- Length: 10.5-12cm
Clemence Falls 18k Gold Baroque Pearl Drop Earrings
FAQ
Are the pieces made of solid gold?
No. All our jewelleries are quality gold-plated using 14ct or 18ct gold.
Do you ship worldwide?
At the moment we ship only within the U.K.
How'll you pack my jewellery?
Each jewellery will be wrapped by premium microsuede pouch which is great for protection and storage and all jewelleries will then be packed in one large gift box, instead of individually boxed to protect our rainforests. Add extra gift box if you require your jewellery to be individually wrapped.
Do you do gift wrapping?
Yes. Add extra Gift Box (£2.9) before checkout and we'll pack each pair of your jewellery individually in our gift box.
Can I have special request on pearls and gemstones?
Yes. Please write us at order@pijouletta.com with your order number and we'll do our best to accomodate.
Are your jewelleries nickel-free?
Yes. We all have sensitive ears. All our jewelleries are tested and are nickel-free.
Shipping
Shipping
Standard delivery takes 3-5 working days [£4.95]. Express delivery available which takes 2-3 working days [£10].
Processing time
Leave us 24-48 hours to process your order and receive a tracking. Orders placed on Friday after 12:00 noon will be processed in the next working day.
Get in touch
Write us at hello@pijouletta.com for any questions you may have! We're here to help :)
Customer Reviews
Lovely earrings
Fab statement earrings, excellent quality!
01/12/2022
Tamiris N.

United Kingdom
Beautiful
Lovely piece of art. Amazing pearls and super stylish.
12/25/2021
Raphael

United Kingdom
Excellent
Great shopping experience, shipped in a nice box, wife absolutely loved them!